Temperature Screening Solution: Efficiently Screening Crowds
Process crowds efficiently through doorways
As the world gets used to coexisting with COVID-19, people are hoping that recent inconveniences are gradually removed so that life can go back to normal. This disease has been a reminder to people of the need to protect themselves. The BenQ Temperature Screening Solution is the ideal choice for corporate and retail bringing back normalcy. This contactless temperature screening system ensures that offices, shopping malls, and businesses can function while still protecting the health of employees and customers.


Why a Temperature Screening Solution?
A temperature screening solution is an effective way of screening the potentially ill, safeguarding indoor locations for employees and customers alike. It is a more comprehensive solution than competing options, as it highlights efficiency, safety, and tracing capability.
A reliable temperature screening solution can process crowds quickly, making it ideal for rapid screening at doorways. This eliminates the expense of having personnel take temperatures manually and the customer inconvenience of long lines.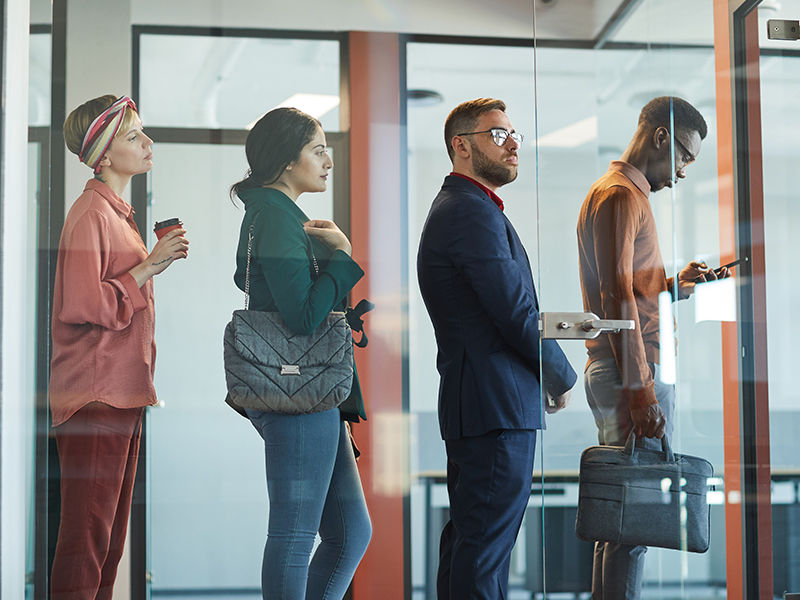 Customers line up for a temperature check
Scanning at a distance reduces the health risks to monitoring personnel, and doing so at speed reduces risk of transmission between passersby, which makes it a superior solution to competing options like handheld thermographic cameras.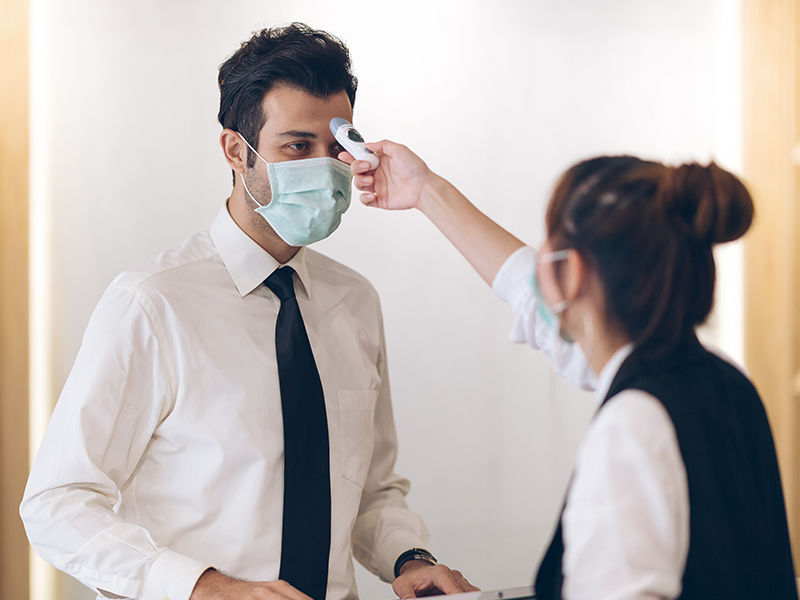 Taking temperatures by hand increases the risk of infection.
Data collected by the system can be stored and used to cross-check possible infected persons. This ensures that cases are not misdiagnosed or missed. An automated email is sent to supervising personnel if an anomaly like a high temperature is noted.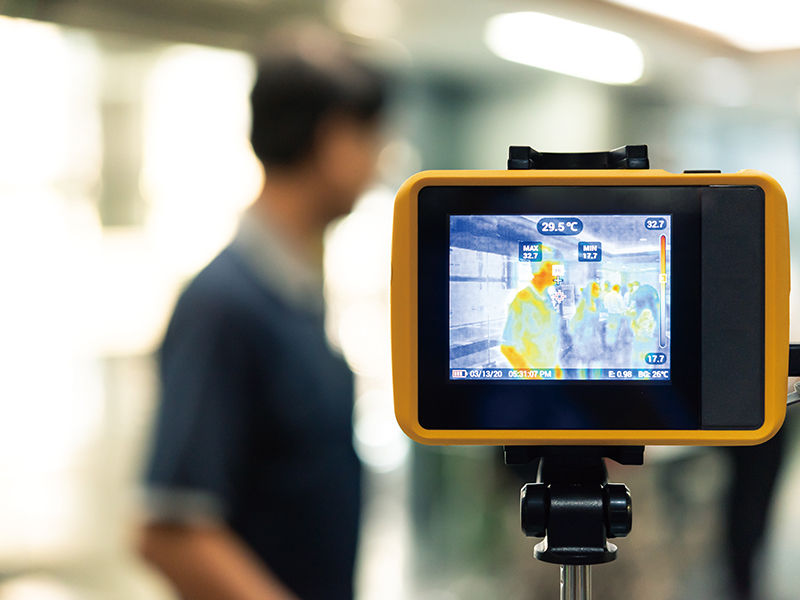 When tracing is impossible, an opportunity to halt the spread of disease is lost.
Why BenQ Temperature Screening Solution?
BenQ is a leader in product design for visual displays and network convergence technologies with the hope to delight the world. The firm is well-placed to provide state-of-the-art screening solutions.
Intelligent scanning & instant retrieval
Images are instantly transferred to the user's display for remote monitoring, while multiple test points allow for highly efficient rapid scans. Customizable temperature settings based on conditions on the ground limit errors, while privacy can be protected through the inclusion of both thermal and optical cameras. Where a high temperature is noted, an alarm will go off and related data can be saved and emailed to allow for tracing.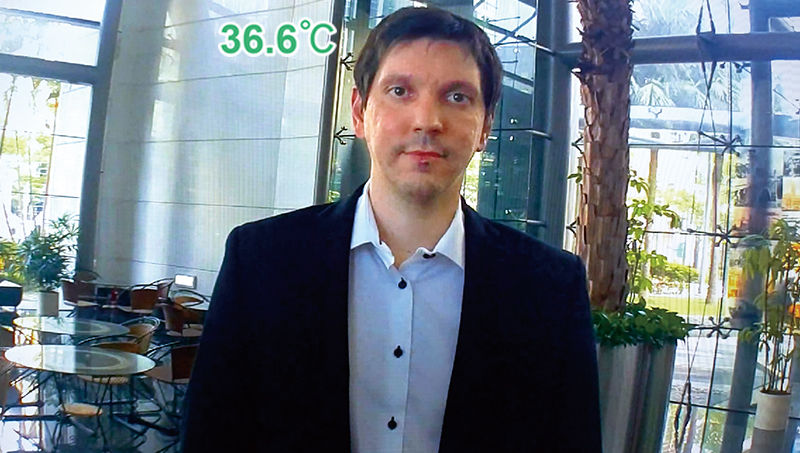 The optical camera preserves privacy.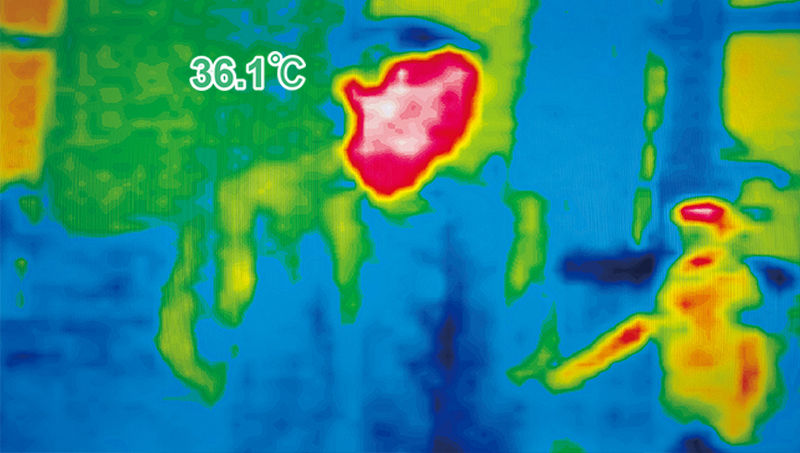 The thermal camera shows points of higher temperature.
Proven track record of professional service
BenQ is known across the industry for providing on-point technical solutions to modern-day problems. The ST02 4K Smart Signage series, an all-in-one Android solution, is packed with the latest technology, including 4K resolution at 450 nits brightness. Built to run 18 hours a day, seven days a week, this workhorse can be set to view in landscape or portrait style (available in either 43/55"), allowing for greater flexibility in installation, and can support up to nine cameras.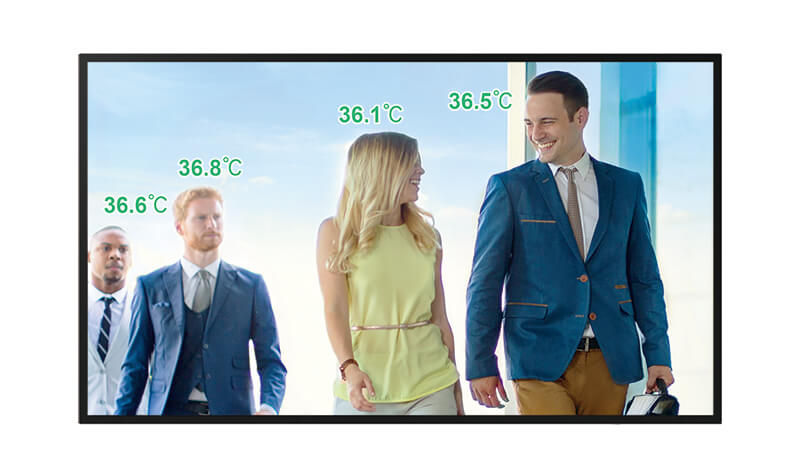 Hands-free thermal sensing and noticeboard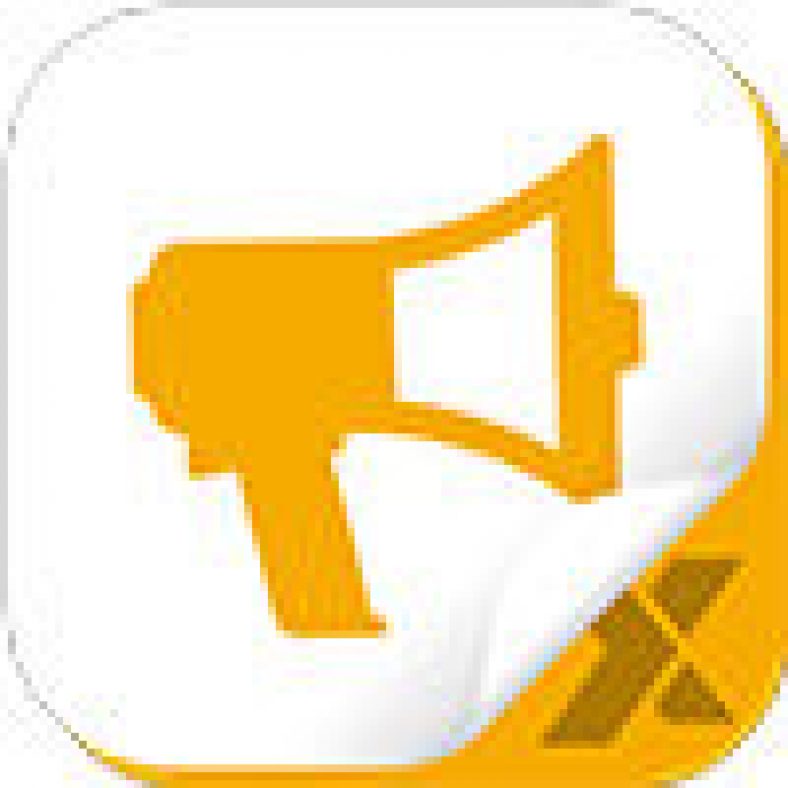 The X-Sign's templates help admins design messages quickly. One half of the screen displays a message, the other half a live image from the thermal camera in either landscape or portrait view.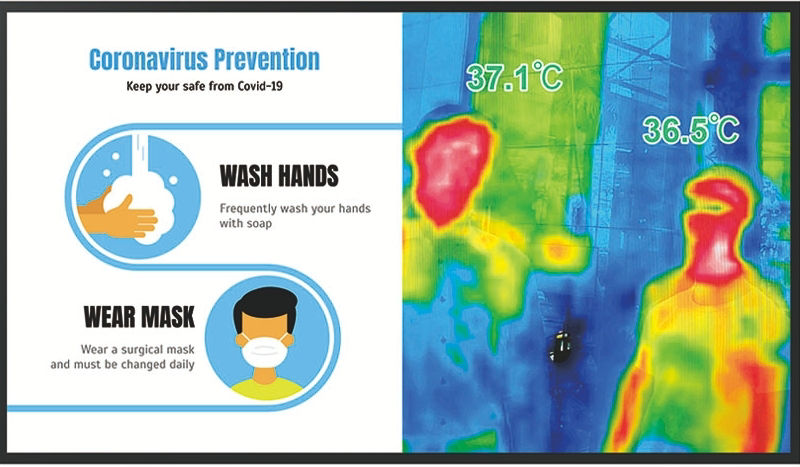 Program and Insert Push Messages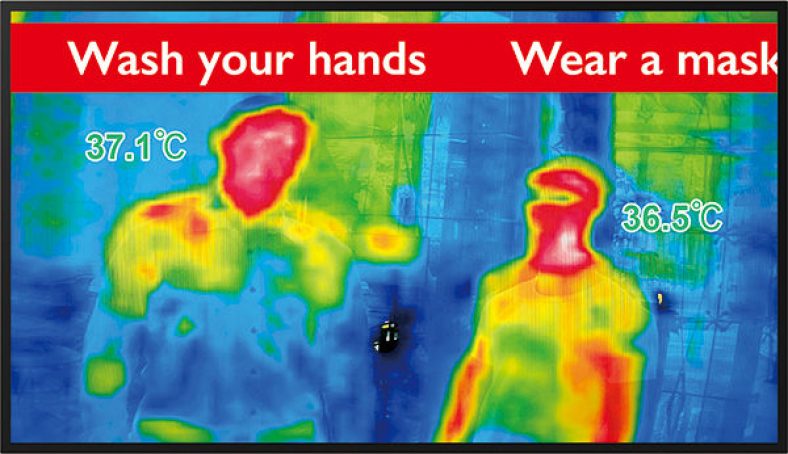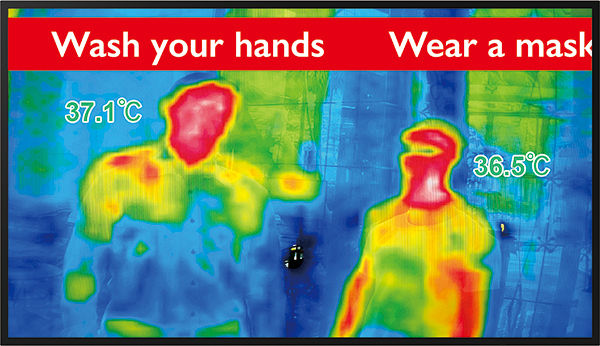 The system allows for customizable X-Sign Broadcast, such as alerts and evacuation calls, as both scheduled or interrupt text or image messages. These messages can be programmed via both devices and PCs.
Convenient Remote Device Management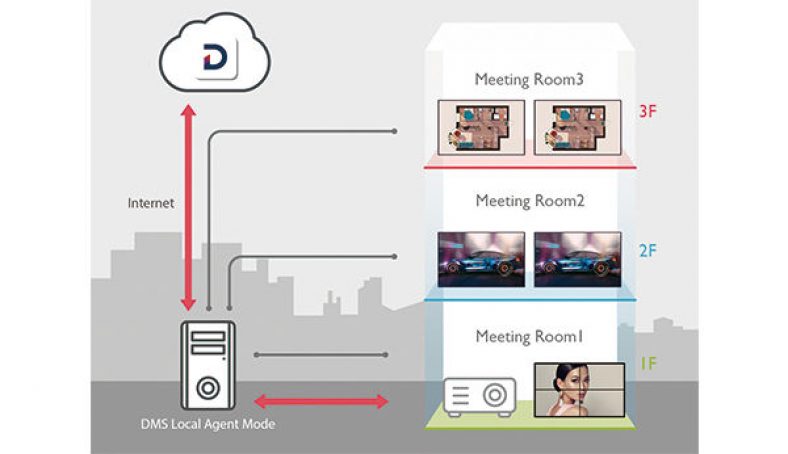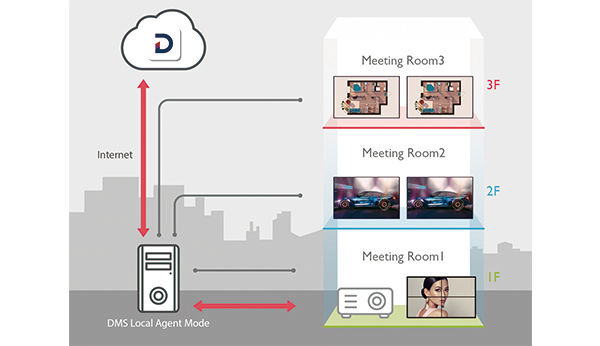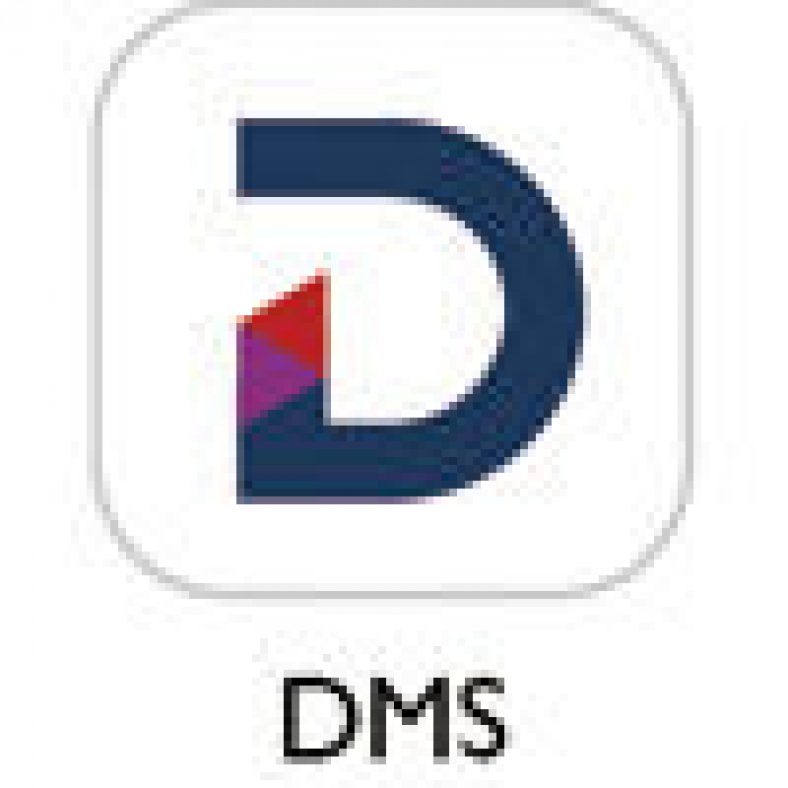 Displays can be remotely monitored and managed through the Device Management Solution (DMS). Accessing the DMS Cloud, users can install and execute Android apps on displays remotely. Such convenient solutions reduce energy and personnel costs by being intuitive and on-the-go!
BenQ's Temperature Screening Solution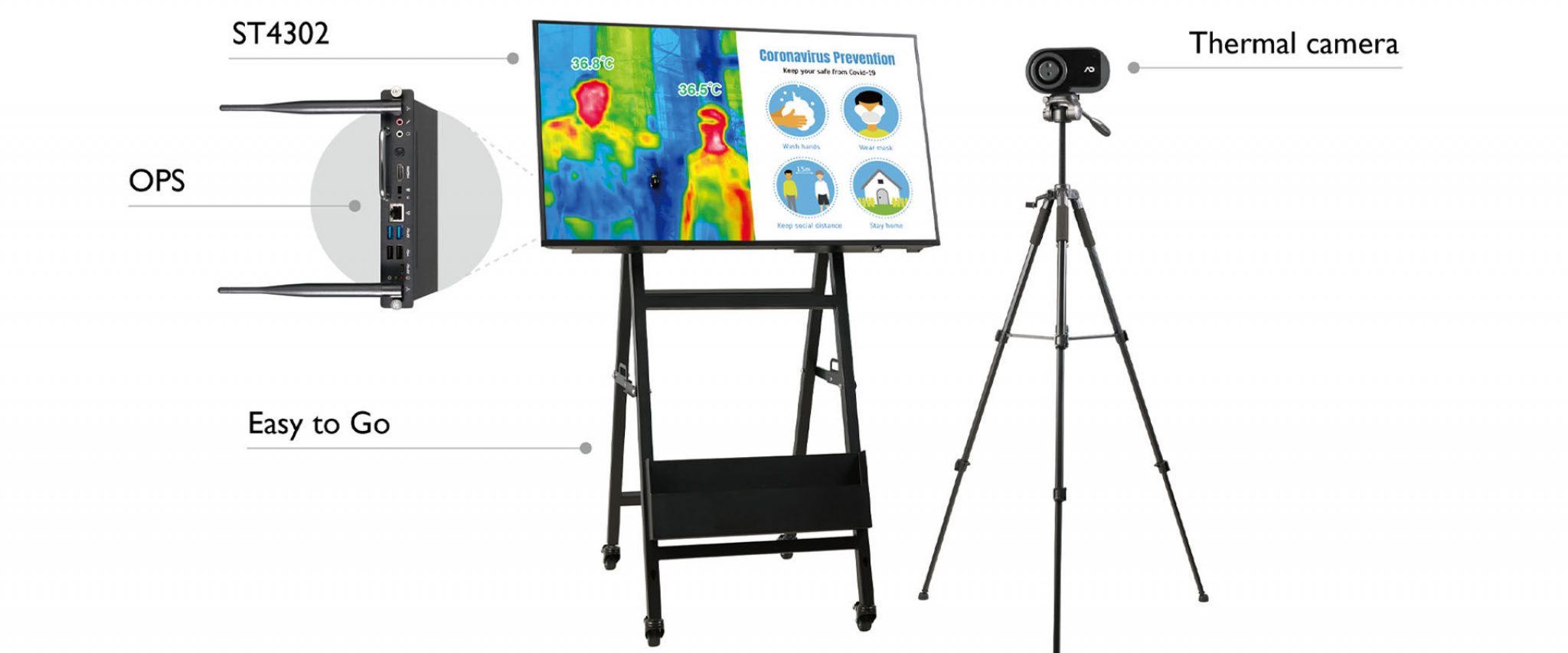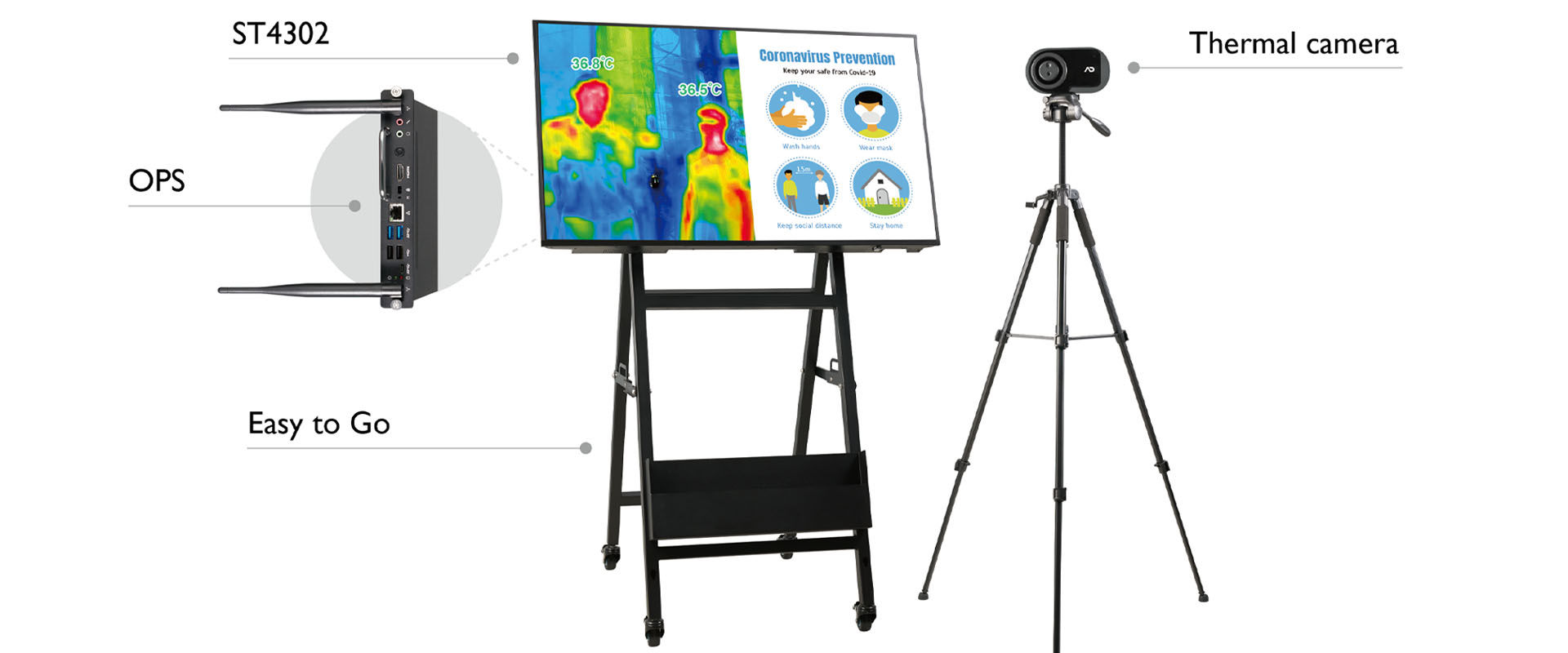 Specifications of Temperature Screening Solution
DVY24

 

 

Resolution

 

2MP(1920×1080 pixels) 16:9




Field of View

 

Frame rate

 

 

 

Format


 

H.264(video camera) / Proprietary(thermal imager)

 

 

 

 

 

 

 

Sensitivity

 

 

 

± 0.5°C (Use black body in 1meter )

 

 

Network

 

Support RJ45 ethernet connection

I/O

 

Reset button x1 (Return to factory default)

LED indicator (blue) x1 (Normal operation)

LED indicator (yellow) x1 (Network packet act)

Power input

 

5Vdc/2.5A (Micro-USB connector)

Operating temp.

 

Storage temp.

 

Dimensions

 

101.3mm(H)x65.5mm(W)x43.8mm(D)
Model

ST4302

ST5502

ST6502

ST7502

ST8602

43″

OS

Video input

• 2 × HDMI (2.0)

• DisplayPort (1.2)

• VGA

• 2 × HDMI (2.0) 

• DisplayPort (1.2)

• VGA

• 2 × HDMI (2.0)

• DisplayPort (1.2)

• VGA

• 2 × HDMI (2.0) 

• DisplayPort (1.2)

• VGA

• 2 × HDMI (2.0)

• DisplayPort (1.2)

• VGA

USB

2 × Type-A (2.0)
1 x Type-A (3.0) for

OPS

2 × Type-A (2.0)
1 x Type-A (3.0) for OPS

2 × Type-A (2.0)
1 x Type-A (3.0) for OPS

2 × Type-A (2.0)
1 x Type-A (3.0) for OPS

2 × Type-A (2.0)
1 x Type-A (3.0) for OPS

RJ45

OPS Slot
| System |   |
| --- | --- |
| | Intel® Kaby lake- U i5 7200U , TDP 15W |
| RAM | |
| HDD/SSD | |
Physical

 

Dimensions (WxHxD) (mm)

548 x 1203 x 679 mm

(compatible with 43/55″ signage)