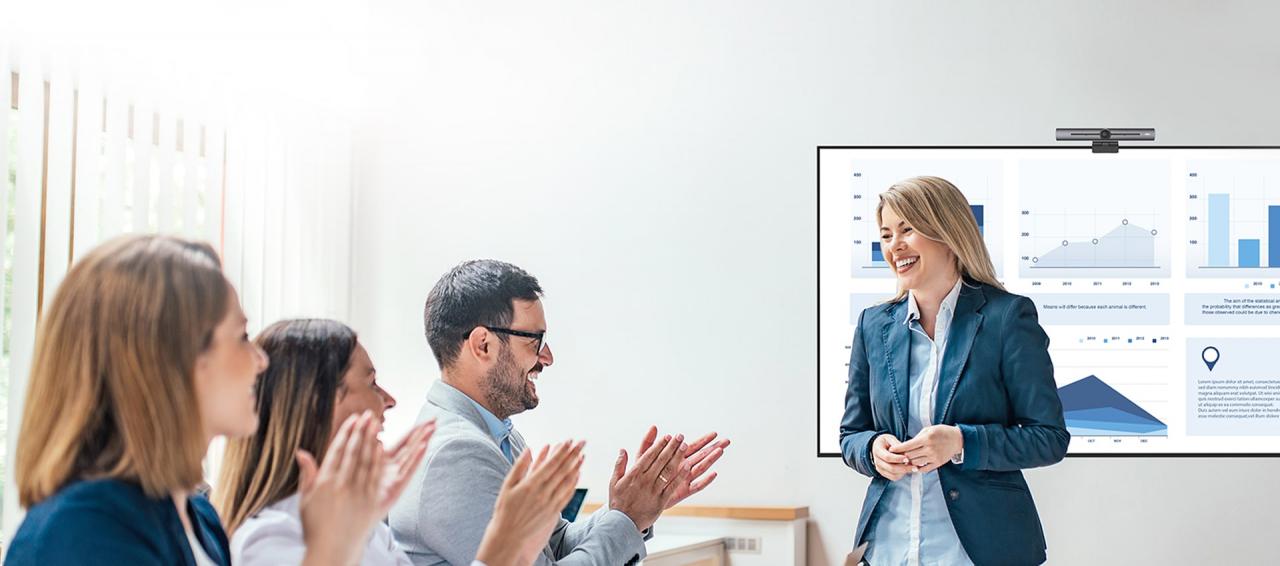 Engage your audience
Get more work done
With the right display, it's easy to grab your audience's attention. More than just crisp visuals,
the CS series offers tools and features that simplify setups and foster highly collaborative discussions.
We've made it easy for you to present
We've taken out all things that can steal your time and take focus off your presentation.
The CS simplifies meeting preparations by removing the need for wires, drives, and even laptops.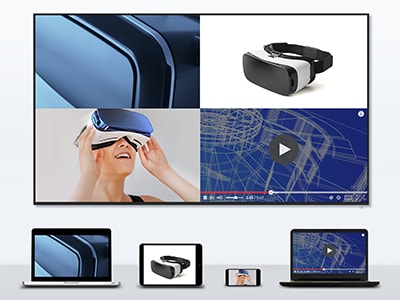 Flawless wireless projection
Tired of cables? So are we.With the CS, you can wirelessly share up to four* screens using InstaShare 2. Viewed on a 4K anti-glare display with 450 nits of 

brightness, you see everything in great detail.
*Sharing of up to 9 screens will be supported in 2021.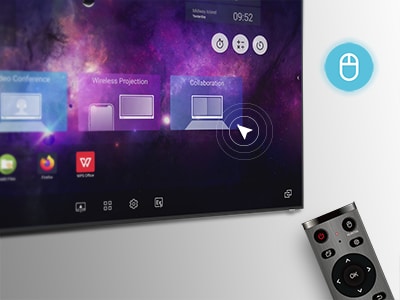 The CS comes with a powerful remote control that doubles as a clicker and pointer. Use it as a cursor to move on-screen items, or access the floating tool to annotate or record your presentations.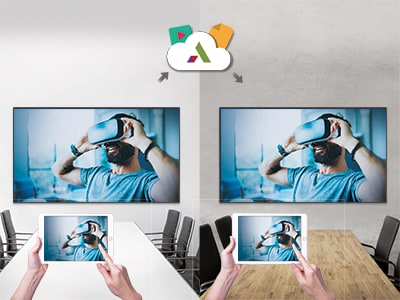 No notebook or USB drive? No problem. With BenQ's Account Management System (AMS), you can access your documents, sheets, and slides through the cloud and edit them directly on the CS using WPS.

More ways to collaborate
Do more than just present. With multiple built-in features made for effective coworking, you can maximize your meeting time and use the CS display as a functional collaborative workspace.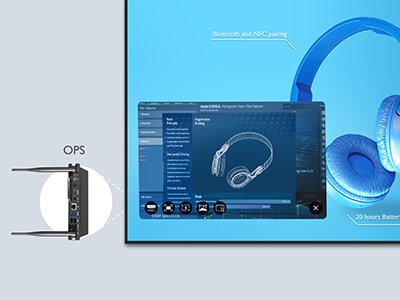 Do two things at once. With Duo OS, you can open an OS window to continue working on the CS while using specialized software like AutoCAD or Photoshop from your slot-in computer or external device.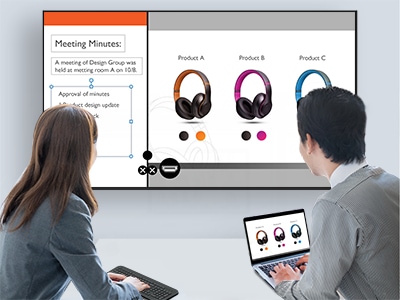 No need to switch from app to app. With Duo Windows, you can work on two apps side-by-side at the same time. With all relevant information on display, you can always stay focused on the task at hand.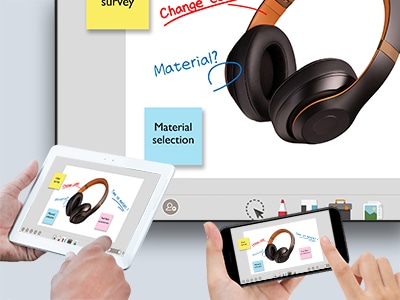 The EZWrite cloud whiteboard takes collaboration to the next level. By allowing attendees to add notes and media on the screen via their own devices, meetings get more hands on, increasing engagement.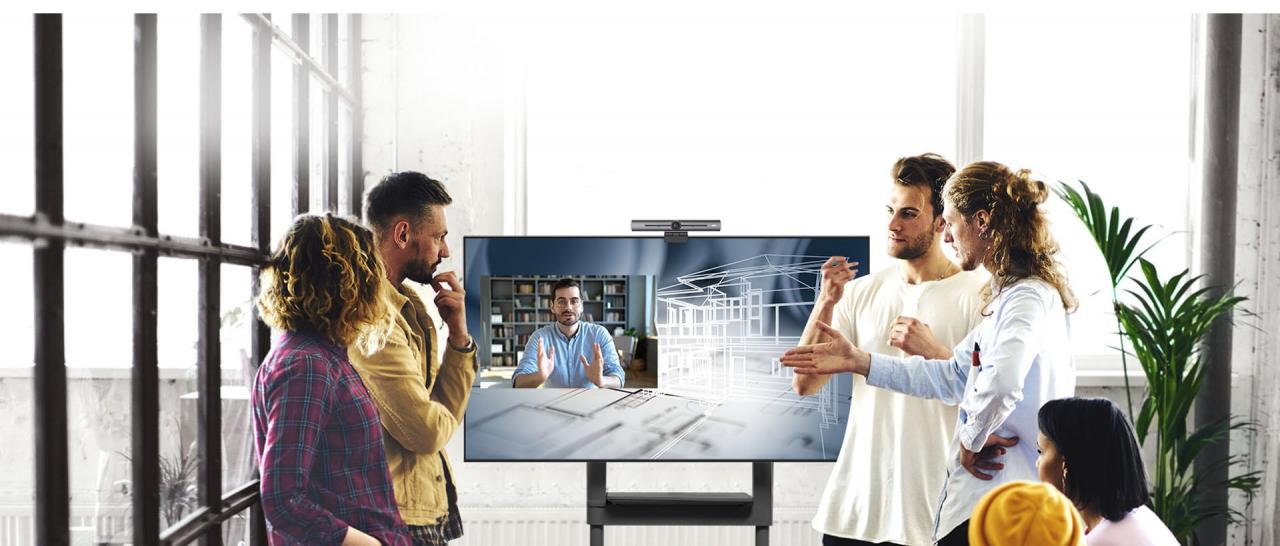 Your conference, your call
With a flexible display that adjusts to the way you meet, you can conveniently host or join video conferences with the right software and camera that matches your meeting requirements.
Use your preferred video conferencing app

The CS and its OPS slot-in computer pair perfectly with popular video conferencing solutions such as Zoom Rooms, Microsoft Teams, Google Meet, Cisco Webex, and LogMeIn GoToMeeting. You can also load the pre-installed TeamViewer Meeting for instant video conferencing.
*Zoom Rooms, Google Meet, Cisco Webex, Microsoft Teams, Skype for Business, and GoToMeeting are compatible with the CS series via the slot-in computer. 
Designed for medium-sized meeting rooms

Equipped with AI-powered auto framing, 4K UHD video, and omnidirectional microphones, the DVY22 is a versatile camera designed to provide the ultimate video conferencing experience.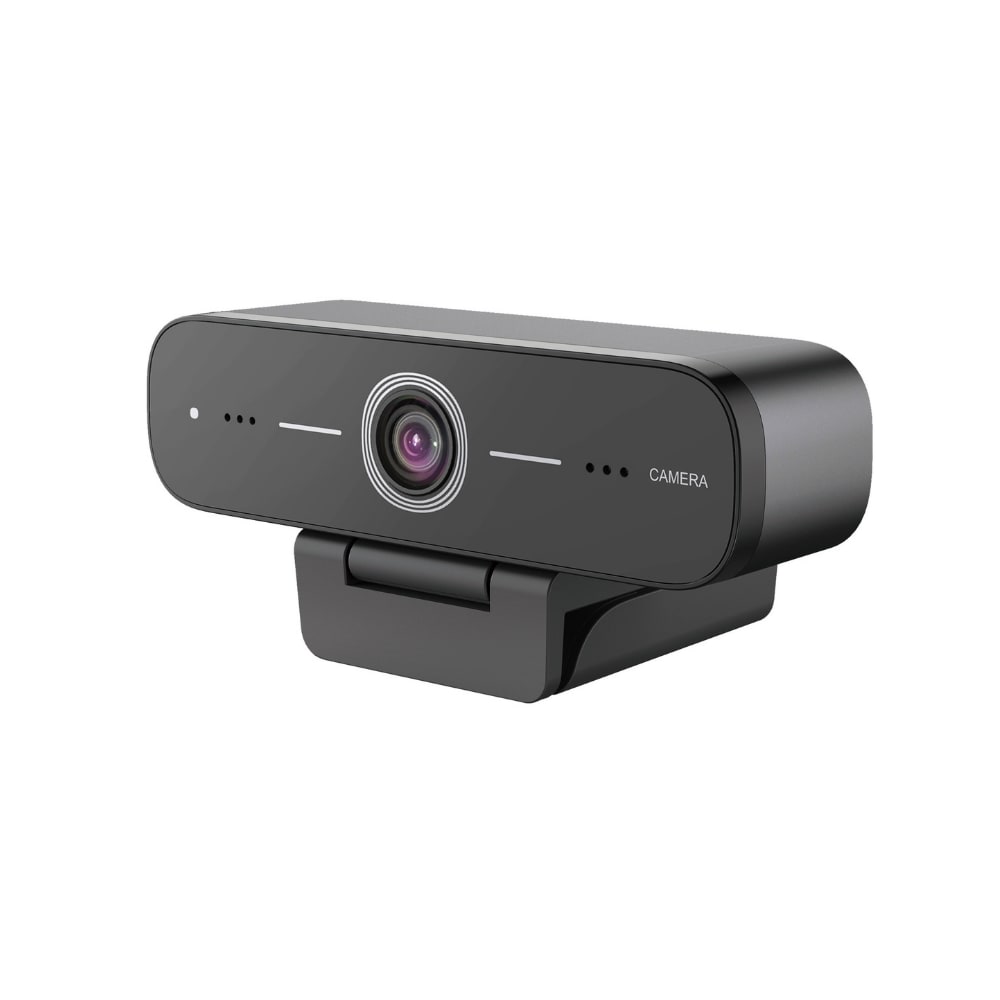 88° wide field of view
Clear Full HD video
Omnidirectional mics with noise suppression
Adjusts to lighting conditions
USB plug and play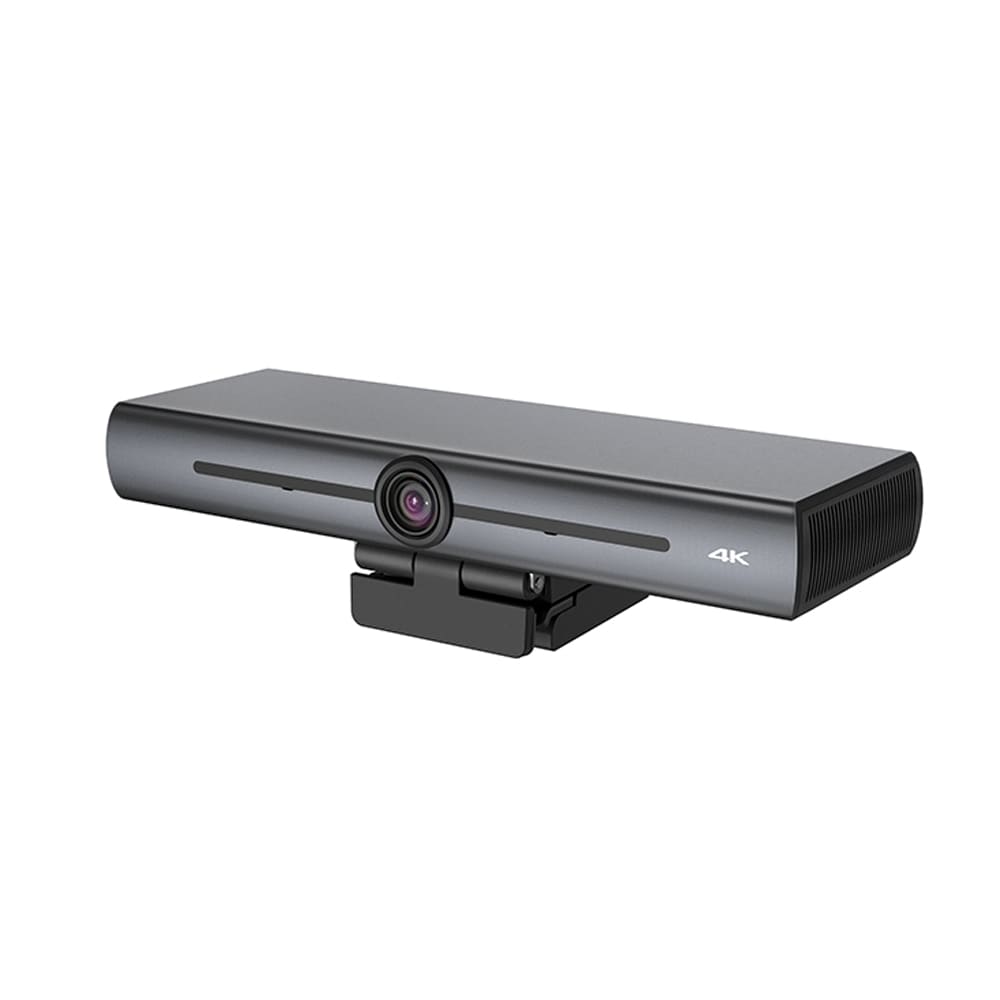 126° wide field of view
4x digital zoom
AI-powered auto framing
Omnidirectional microphones with noise suppression
Dual-stream support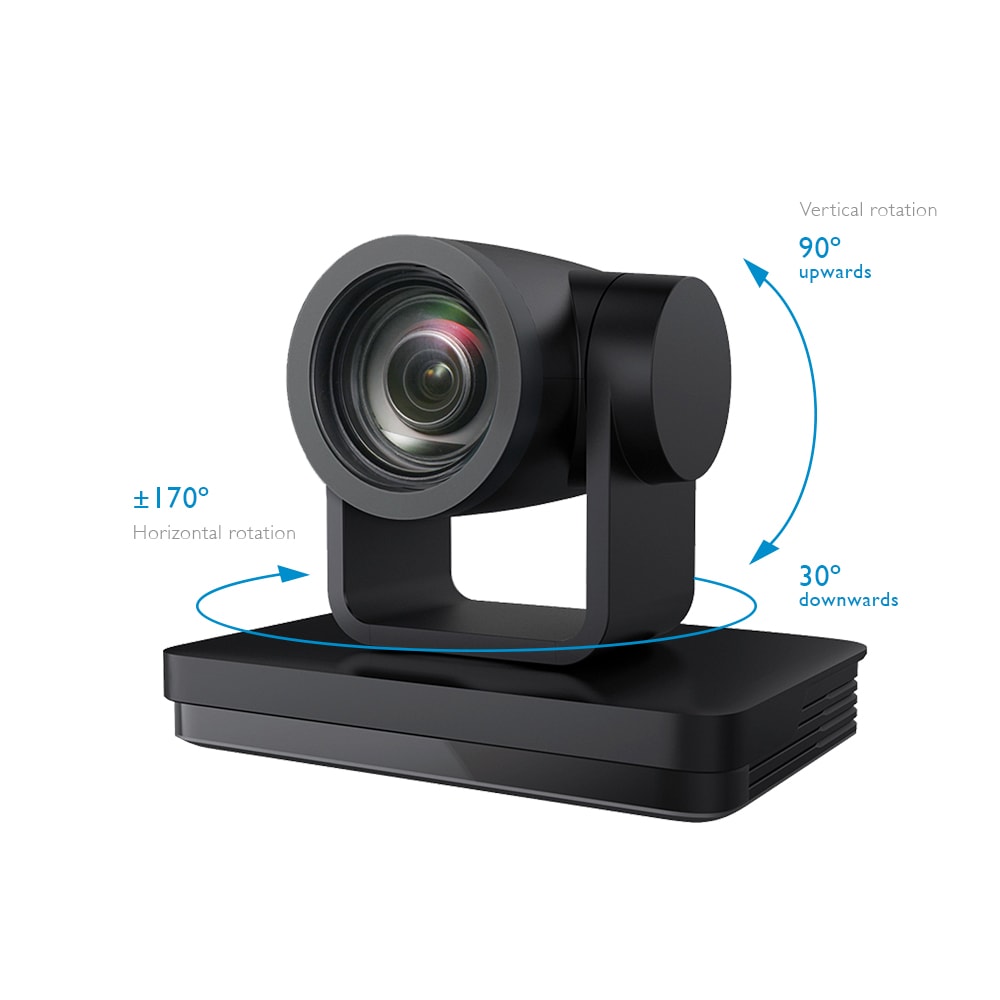 Ultra-detailed 20x optical zoom
Pan: ±170° | Tilt: -30° to +90°
Video outputs: USB 3.0, HDMI, 1GbE with PoE, 3G-SDI
Streaming: RTSP and RTMP
Control: RS232, RS422, RS485, LAN, and remote control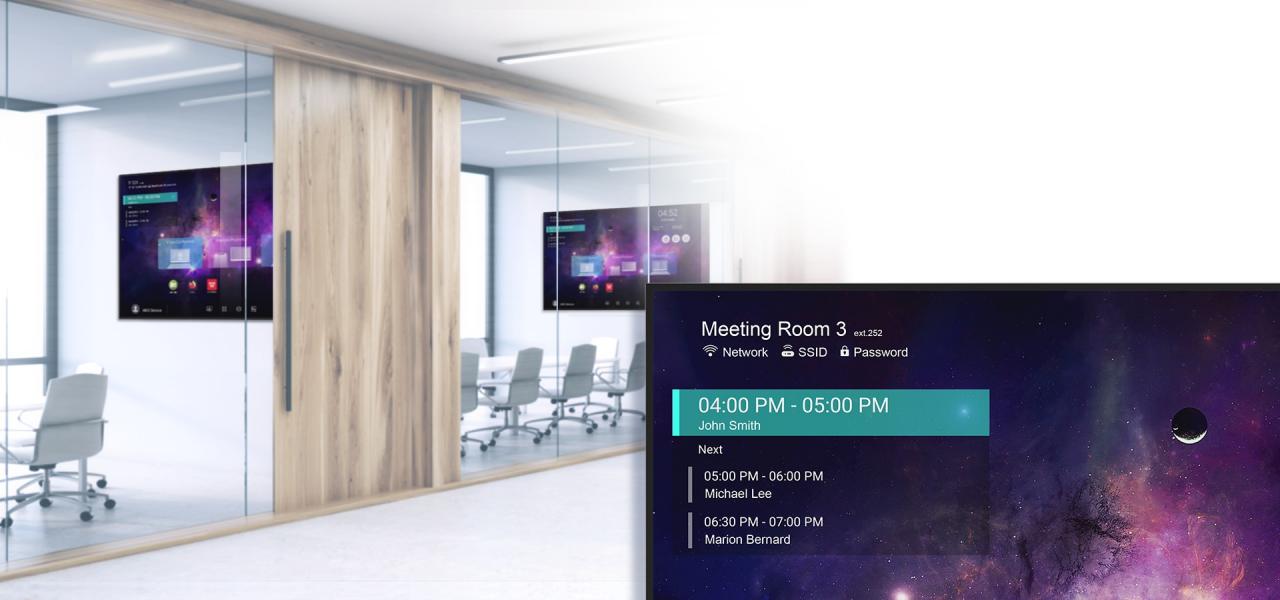 Informed and always ready
Rooms? Announcements? We've got you covered.
The CS series has integrated solutions that let you reserve rooms in advance and keep teams up to speed.

Reserve displays via Meeting Room 365 while simultaneously sending out meeting invites.* The widget keeps everyone up to date about upcoming meetings and room schedules. 
*You can use Meeting Room 365 with Microsoft Outlook, Microsoft Office 365, Microsoft Exchange, and Google Workspace.

Push instant notifications
Keep your coworkers in the know. For timely and important announcements, you can use X-Sign Broadcast to push messages to one or more meeting room displays in your office.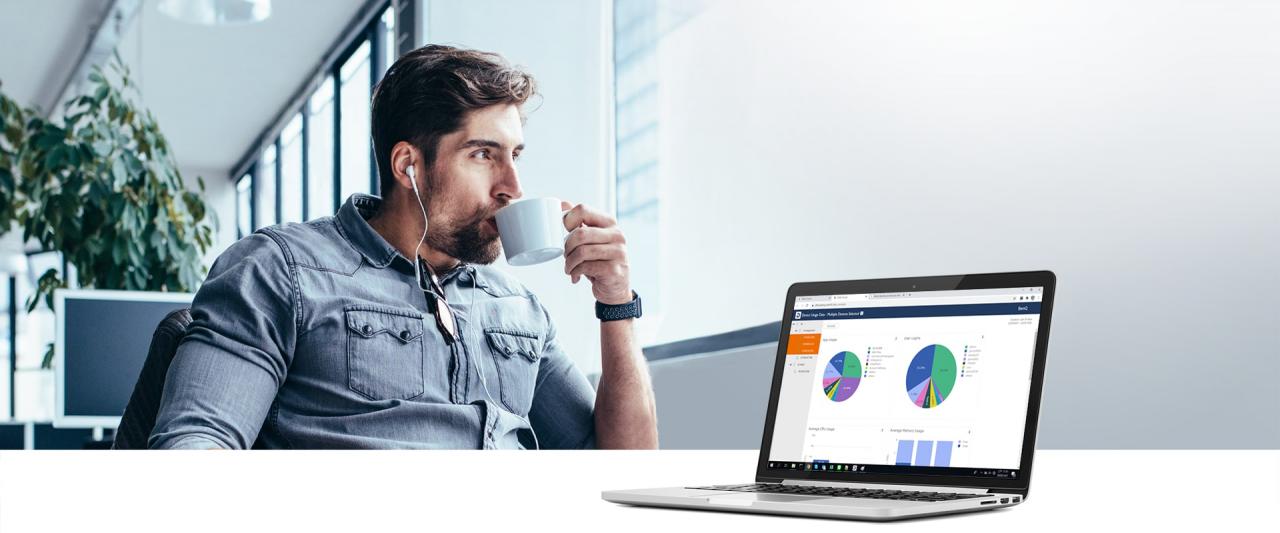 Management simplified
Free yourself from fuss. We've streamlined device and user management for you so you can focus on things that matter more.

Whether local or remote, you can install apps or centrally monitor, manage, and update multiple displays with ease through the BenQ Device Management Solution (DMS).

Add users and edit permissions for all your displays in just one go. BenQ's Identity and Access Management (IAM) system syncs with your AD server for seamless user management.

Data and device protection
Defend all your displays against malware while securing your corporate data. BenQ offers you IoT security through McAfee Mobile Security. 

Control at your fingertips
Already on Extron? Then there's no need to switch. The CS fully integrates with Extron so you can easily adjust your displays to your liking without ever having to change system controllers.

Real-time troubleshooting
Need technical support? Save your administrators' time and effort by utilizing TeamViewer on your display to conduct real-time remote assessment and troubleshooting.

With the VMware Horizon Client, you can pull up any of your virtual desktops on the CS to get instant access to your hosted apps, files, and folders anytime during a meeting.