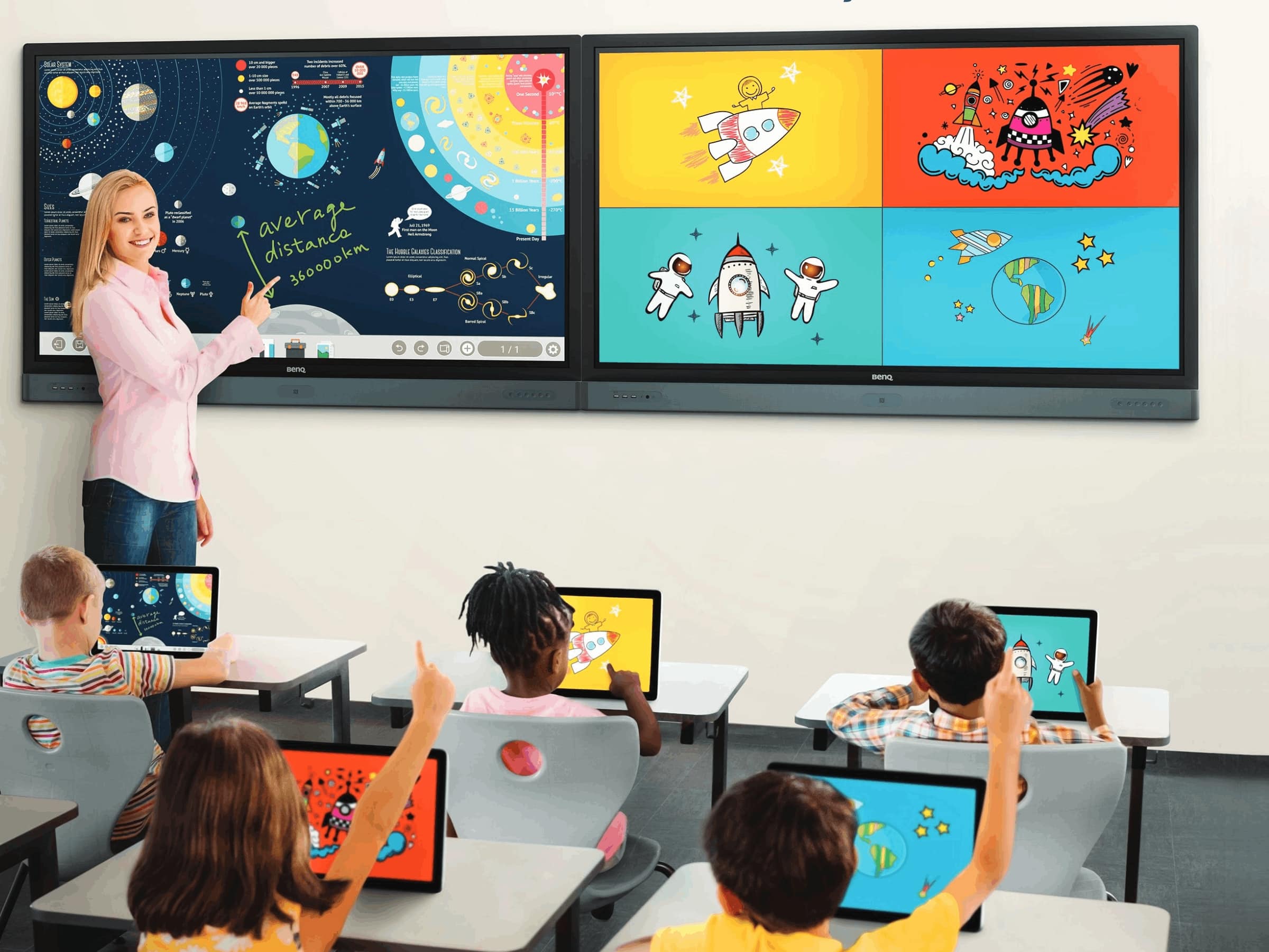 The leading brand of smart classrooms, BenQ, continues to innovate in the post-epidemic era. BenQ's educational interactive touch display has obtained dual antibacterial certification from the verification authority Germany Rheinland and Japan's SIAA this year. High resolution, with writing software tailored for the classroom, and wireless sharing function, increase student participation and allow more diverse interactions between teachers and students. PM2.5 sensors will be added this year to continuously monitor the health of teachers and students.
Recognized by overseas markets to  continue to drive the development of smart campuses
Since 2018, BenQ has been recognized by most teachers and students. In the past three years, it has successively built smart future classrooms in Taipei City. A total of 206 public elementary schools and high schools will be built with a total of 2,538 classrooms, helping Taipei City to build 70% of the 10 Wisdom classroom for the two-year state education.
In addition to the Taiwan market, BenQ also looks at the world and is in line with the world. According to a FutureSource survey report, BenQ educational touch interactive display has been recognized by overseas markets. In 2019, it became the top two leading brands in the education market in Australia and the Asia-Pacific region.
Smart interactive technology upgrades traditional one-way teaching to two-way interactive communication
Through interactive teaching and cooperation to enhance the quality of education and inspire the motivation of students to learn actively, so that students become the protagonist of the classroom. Zeng Wenlong, the principal of Taipei's Renai National High School, who has been deeply engaged in digital learning for many years, said: When he promoted the integration of computers into teaching, he had witnessed students who were originally "guests" in subjects such as mathematics and physics and chemistry. This triggered the motivation and passion for learning. Learning can make students become the "masters" in the classroom.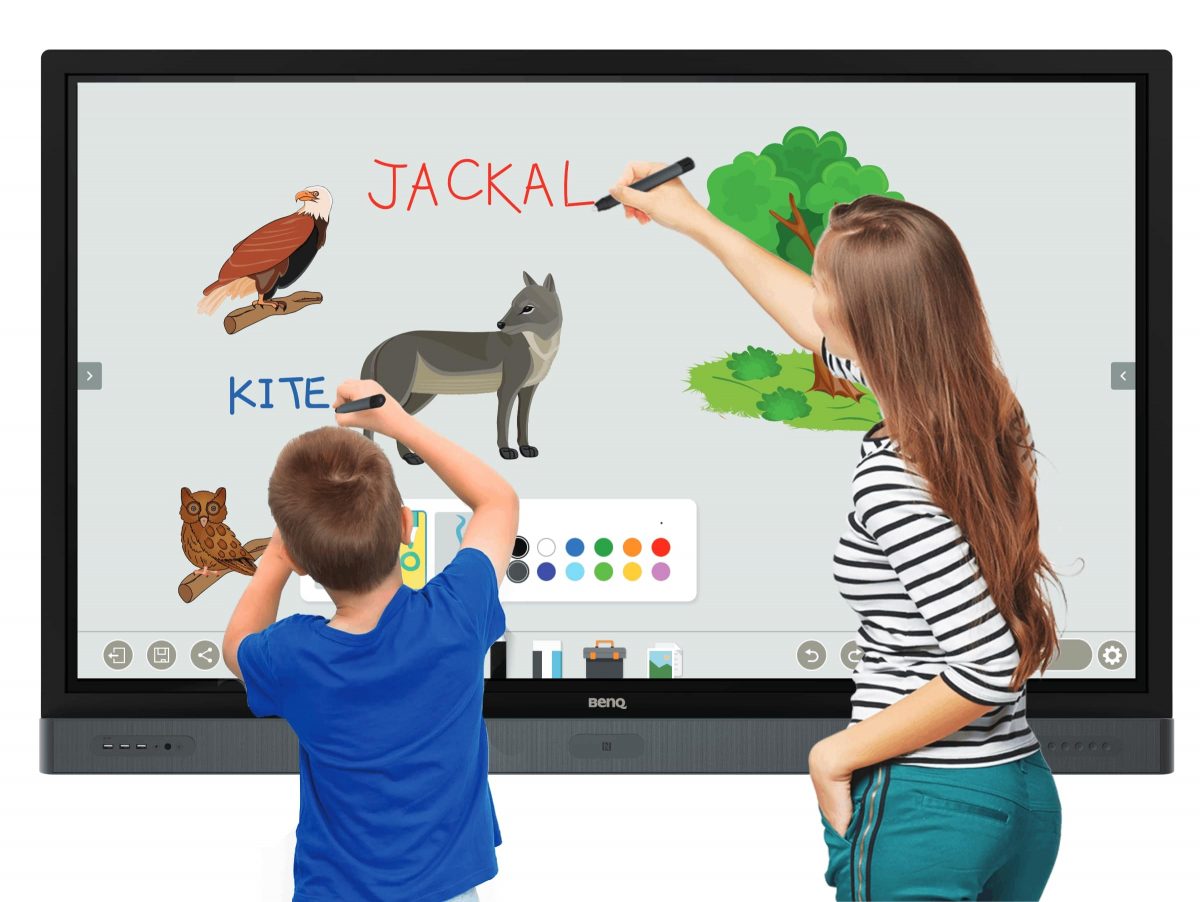 Comprehensive health care to  reduce the spread of germs and  protect eyes and comfort
BenQ's large interactive touch display screen uses silver ion antibacterial coating to reduce the risk of germ transmission in the teaching environment by destroying the cell division mechanism. The antibacterial function is certified by TÜV (German Rheinland) and SIAA (Japan Antibacterial). In addition, the screen has also been certified by TÜV Rheinland for low blue light and non-flicker. It can prevent eye fatigue and reduce the occurrence of macular degeneration. Combined with the anti-glare glass mirror, it can effectively reduce reflection and glare, and provide the most comfortable and healthy visual experience.
Intuitive interaction  improves learning efficiency
The BenQ educational touch interactive display is equipped with the exclusive writing software EZWrite, which supports multi-person and multi-point writing collaboration, including MS Office access, smart handwriting recognition function, group competition, computer, screen image recording and other interactive tools. Instashare, a wireless projection software, can be transferred across devices (Windows, Chrome OS, macOS, iOS and Android). Teachers no longer restrict their walking range due to the location of the device, making it easier to interact and discuss with students.
One-key synchronization and  simple maintenance
BenQ is a thoughtful smart classroom information manager, combined with cloud server and local network. Information managers only need to use DMS + MDA one-key synchronization, multi-screen management system, can remotely install and update file programs, and easily manage all interactions Display, reducing personnel inspection and maintenance costs, can be described as the best choice for a healthy and smart classroom.