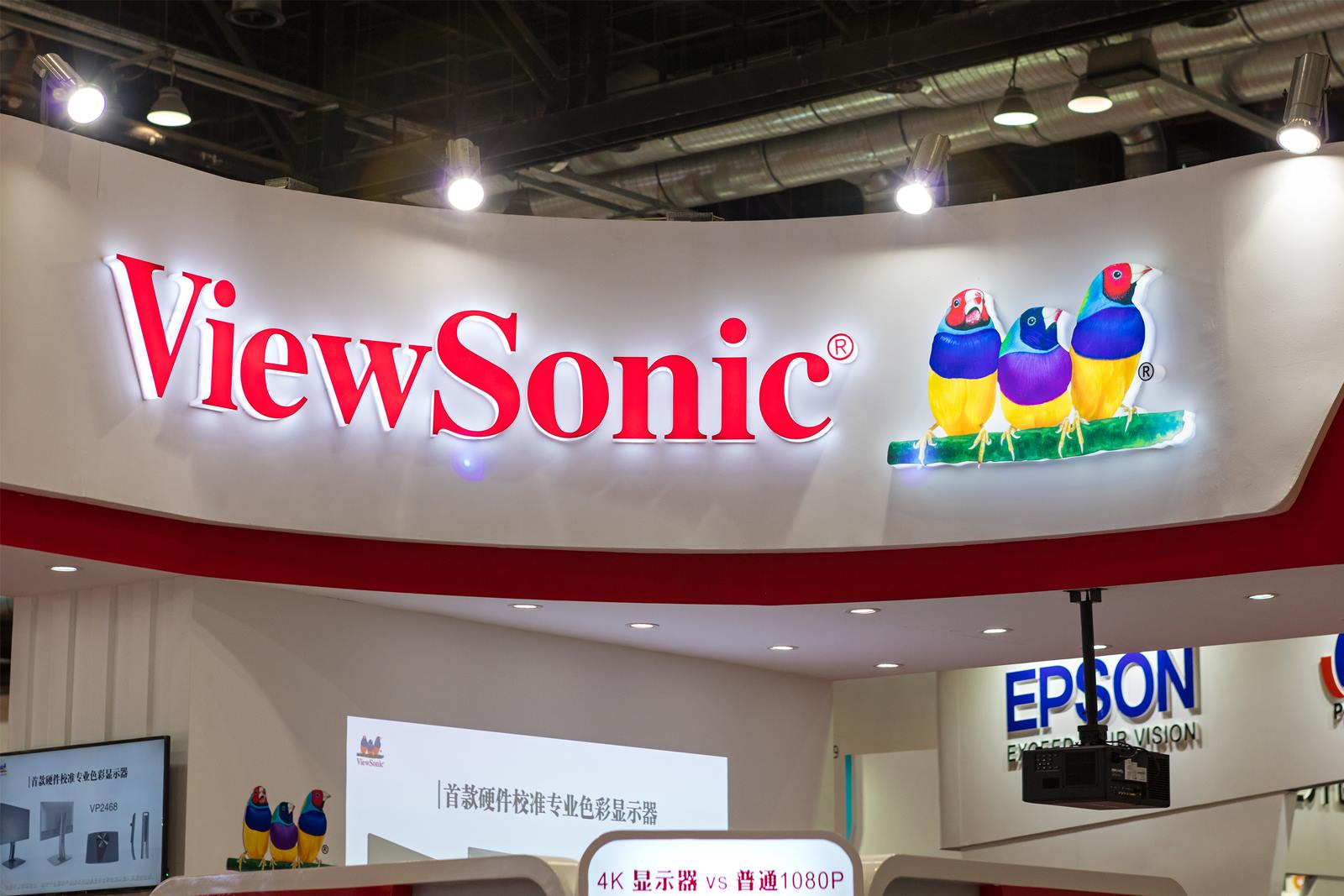 Nearly 30 years ago, a dropout from Taiwan's Tunghai University boldly sold a batch of Panasonic's stock computer monitors in the United States under the brand "ViewSonic". The result was a great success. These three colored Hu Jinbirds, It was once the world's largest display brand. Now, this long-forgotten predecessor, the light of Taiwan, has set off again, riding on the digital classroom boom, resurrecting ViewSonic's performances and quickly reaching the third place in the world. How did Zhu Jialiang do it?
Zhonghe Liancheng Road, an important display street in northern Taiwan, where major manufacturers such as TPV and Ruixuan are located. Next to the busy road, there are 3 colorful Hu Jinbirds in front of the dark green ViewSonic International Building and a big "ViewSonic" written on it. Standing cards are even more eye-catching.
On the seventh floor of the ViewSonic building, a picture of "Wonderful Bait" (Wonderful Bait) by Filipino artist Ronald Ventura is hung at the entrance. This painting is from the collection of Zhu Jialiang, the chairman of ViewSonic International who loves artistic paintings, and it is also his favorite painting.
In the painting, a group of brown horses jumped out of a circle of fire and galloped forward, struggling to get out of the predicament. It's like the portrayal of Zhu Jialiang and the ViewSonic he built.
In 1990, Zhu Jialiang founded ViewSonic in California, USA, and built it into the world's largest display brand in just 10 years.
62 years old this year, Zhu Jialiang was born in the Pingtung Air Force family, and graduated from the Department of Social Studies at Tunghai University. He is usually very dull or even reticent. However, when he was a student, he used to set up a street stall to do business but became dull and vigorous. He is a natural businessman.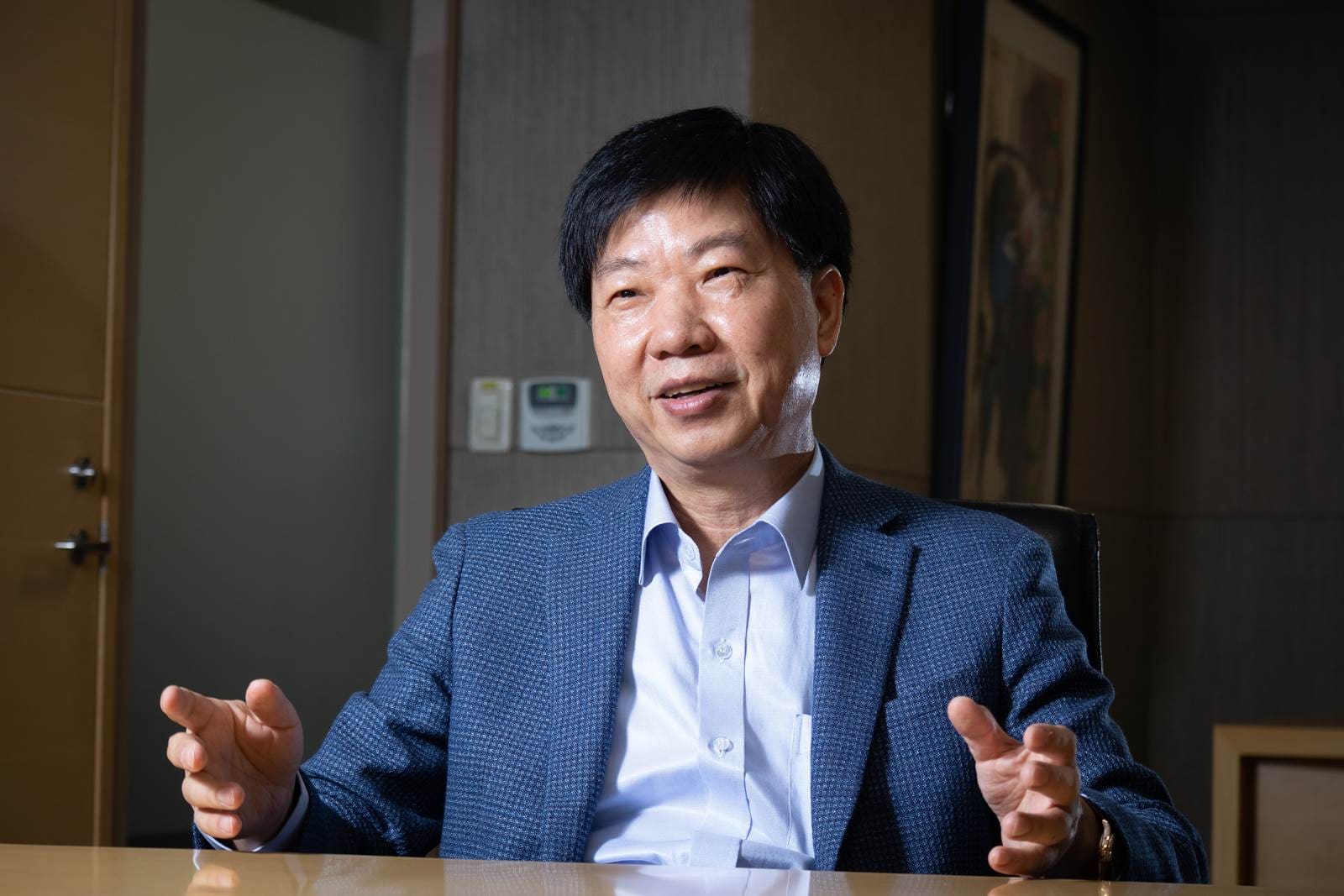 Zhu Jialiang, Chairman of ViewSonic International, who built the View Sonic display brand. (Photo by Huang Mingtang)
In 1987, 30-year-old Zhu Jialiang left the original technology company, borrowed $100,000 from his sister and current ViewSonic vice chairman Zhu Daiying, and went to California, USA.
Around the 1990s, the personal computer industry was surging. Zhu Jialiang first engaged in the agent sales of PC peripheral products. A few years later, after deciding to create the ViewSonic brand, he concentrated his firepower on CRT display products and pioneered the "American brand, made in Asia" model.
Use "noble and not expensive" products to grab market share
At that time, more than 90% of display manufacturers were concentrated in the low-end market, and only a few large Japanese manufacturers were in the high-end market, but the prices were amazing. A high-priced NEC monitor can sell for up to $1,000, and the price difference between the low and medium price of the same size can reach about $300.
Zhu Jialiang believes that what consumers want is noble and inexpensive products, and this is the opportunity for ViewSonic. He started an incredible summit legend.
He locked in the high-priced brand NEC, the number one high-priced brand in the U.S. market at the time. And boldly find Panasonic of Japan as an foundry for ViewSonic.
"To build a mid-to-high-priced brand, you don't want to talk about mid-to-high quality, but to have a mid-to-high quality. If you want to compete with the Japanese brand NEC, you will find the same level of Japanese Panasonic manufacturing." Speaking of this strategy back then, Zhu Jialiang couldn't help but excited.
However, why did this young man from Taiwan persuade Japan's Panasonic, who was in full swing at the time, and also had its own brand, to help him make the contract?
The god of luck is on Zhu Jialiang's side. In 1990, Panasonic made a strategic turn and decided to focus on low- and medium-end displays, which were supplied by Panasonic Kyushu Plant. As a result, Panasonic's headquarters in Shinagawa, Japan, stocks a pile of mid-to-high-end 17-inch display products.
At this time, Zhu Jialiang just arrived at the Panasonic headquarters in Japan. He was a salesperson and promised that he could sell 20,000 computer keyboards a month. Each set of desktop computer keyboards needs to be sold with a monitor. The head of Japan's Matsushita, who was eager to find Haikou, began to shake his heart.
Little coffee persuaded the big coffee, 3 colorful birds made the name
"We are a little coffee, he (Japan's Panasonic), he is a dead horse doctor and he can barely give it a try," Zhu Jialiang said with a smile.
Unexpectedly, ViewSonic's sales strategy of mid-to-high quality, 15% cheaper than NEC's $1,000, and the brand strategy of continuously hitting the 3 birds' Logo advertising worked, so that Zhu Jialiang sold 6 containers in the first try. More than 3 container promises to Panasonic.
Japan's Panasonic not only solved the inventory problem, but also decided to reopen a new product line. Because of ViewSonic's achievements in the United States, Japan's Panasonic has achieved real results, and then took advantage of the trend to win Apple's orders . The cooperation between the two parties is therefore closer, and ViewSonic once jumped to become the largest brand customer of Panasonic in Japan.
ViewSonic, symbolized by 3 colored birds, jumped up and not only squeezed out NEC. At the beginning of 2000, Zhu Jialiang formally announced the acquisition of the Nokia Display Division, dominating the 14-inch to 22-inch computer monitors, and it has become the world's largest in just 8 years. The largest display brand.
"In the 90s, putting a "3 Birds" brand at home gave people a very powerful feeling," recalled a former director of Ruixuan who had made ViewSonic monitors. The mid-to-high-priced ViewSonic was just as high-quality as Japan's SONY. impression.
ViewSonic, founded by Zhu Jialiang, had a global turnover of more than US$1.3 billion, ranking 228th among the top 500 private companies in the United States. As a result, he won the National Outstanding Chinese Award and stood at the pinnacle of his career.
However, with the emergence of laptops, smart phones, and tablet computers, ViewSonic gradually disappeared from the hot technology radar, becoming a memory of the times.
Cut into the "wisdom blackboard" and take a different path
Recently, Zhu Jialiang's name has been frequently associated with the school and has reappeared in the media. In early October, he appeared in the strategic alliance between ViewSonic and National Taiwan Normal University to promote "Ed Tech (education technology)" and announced the opening of "ViewSonic Innovation Classroom" in the College of Education of National Taiwan Normal University.
The smart interactive whiteboard with 3 ViewSonic birds is officially stationed in Taiwan Normal University, serving as a demonstration field for Taiwan's educational technology as a holy land for training future teachers in Taiwan.
This appearance is like a large LCD TV hung on the wall. Teachers can not only use it to display and operate the textbooks they have prepared, but also use a chalk-sized electronic pen to draw pictures and write directly on the screen. You can also chat with students in real time. Interaction on the whiteboard.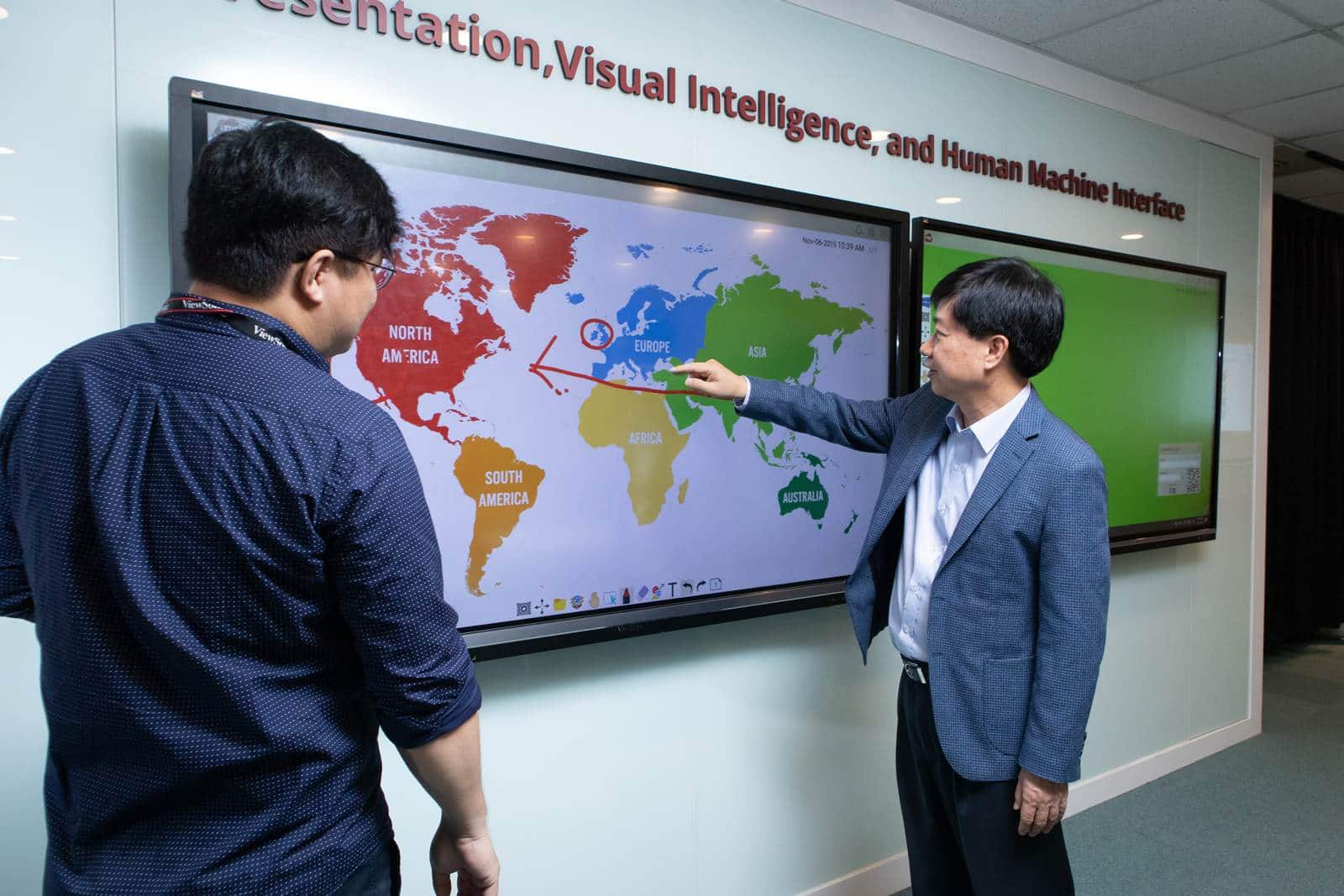 (Photo by Huang Mingtang)
"The education market is really huge," Zhu Jialiang said seriously while sitting in the office. "We have been squatting for a while, just to find a way to differentiate from others."
According to the report of the second quarter of 2019 by the technology consulting company Futuresource, the global sales volume of global interactive whiteboards in 2018 was about 1.93 million units, which could grow to 2.52 million units by 2023, and the application in the education market accounted for about 83%. The smart electronic interactive whiteboard that ViewSonic has spent three years promoting has ranked third in the world, second only to Promethean and Smart Technologies.
In 2019, ViewSonic's smart electronic interactive whiteboard has been installed in more than 5,500 public primary and secondary schools in the United States, and about 10 schools in Taiwan, including Taiwan Normal University.
"The application in the education field is in its early stages, and it has gradually become common in Europe and the United States over the past three years," observes Lin Yukang, Associate of ViewSonic's Global Product Marketing Department. Although projectors and whiteboards used in school teaching are common, teacher teaching is still a top-to-bottom blackboard. Mode, the use of smart interactive whiteboard has a lot of room for growth.
The appearance of LCD panels, the start of a new display war
A smart electronic interactive whiteboard placed in the classroom was actually Zhu Jialiang's comeback gamble. For him, it is not only the transformation of the company's last stand, but also a bloody survival battle in the display industry.
"I know that the brand is very important, but now it is not enough to have a brand. You have to understand the needs of users better," said Zhu Jialiang.
This is his experience of staggering transformation in the past 10 years.
After paying attention to the panel and display industries for many years, Xie Qinyi, general manager of display research at IHS Markit, a consulting firm, recalled that Zhu Jialiang founded the brand in the early years, "making good use of the Asian supply chain manufacturing model and selling to the US market, and it did succeed in the early stage."
However, under the aura of the leading global display brand, it has suffered a big impact due to the bloody price drop after the display entered the LCD panel.
In the early CRT era, the public would especially choose well-known display brands, and the good-quality ViewSonic brand was very popular. But then the technology trend entered the era of thin and light LCD monitors. Big PC brands such as Dell and Compaq (later merged into HP), etc., doubled as monitors and sold them together. ViewSonic, which was a monitor alone, gradually disappeared. Is the user's first choice.
"ViewSonic used to be positioned at the mid-to-high end. It was difficult to compete in the low-price display market," Xie Qinyi said.
In 2002, ViewSonic shipped more than 5 million units at its peak. Now, according to IHS statistics, ViewSonic's LCD monitor shipments for the whole year are only 3.3 million units, which is barely squeezed into the top 10.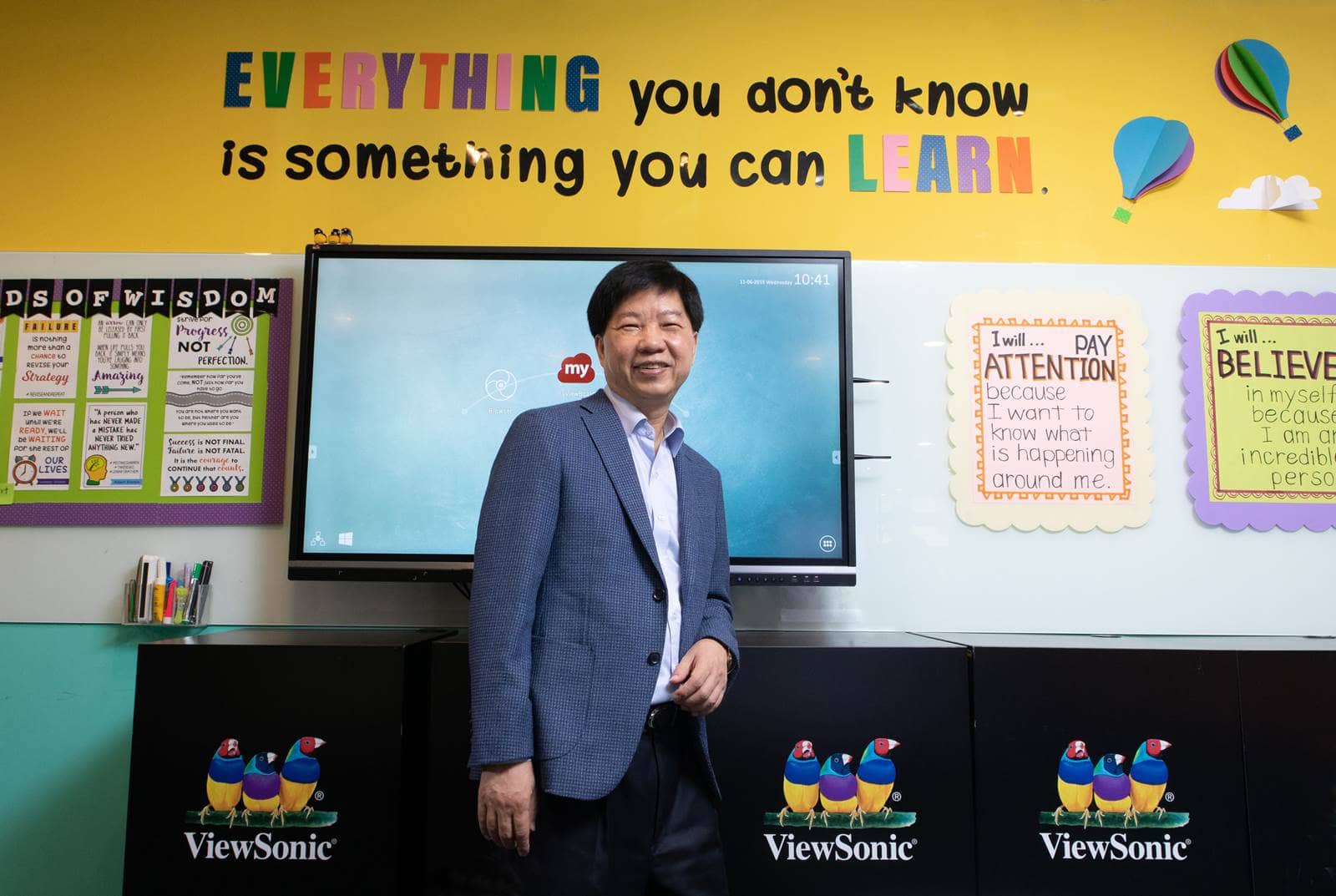 (Photo by Huang Mingtang)
"We have been trying to transform for more than 10 years." In the face of difficulties, Zhu Jialiang did not dodge, he said frankly, "When competitors and you are not very different, the survival of the company will be problematic." ViewSonic has tried to launch tablets and LCDs. TV, PDA, etc., but they all failed.
In the financial turmoil of 2008-09, ViewSonic was faltering for a while. A director in the panel display industry revealed, "At that time, many people suggested that James (Zhu Jialiang) sell the company cash out," the executive said, including the purchase of IBM's personal computer division Lenovo has talked about it.
At that time, he was already serving on ViewSonic. Global Chief Operating Officer Han Minzhu recalled that the company was hit hard and lost a huge amount of money.
"The company is at a low ebb, James can stay calm and take everyone through the storm," Han Minzhu recalled. She remembers Zhu Jialiang, who usually retains flexibility in decision-making, but insists on Hu Jinniao's brand identity and cash flow management.
At that time, the company's cash cycle cycle was as high as 50 days. Zhu Jialiang knew that the financial turmoil was coming and cash flow was the most important, in order to encourage customers to pay their bills as soon as possible. He sets a billing period of 30 days, and if the customer pays within 10 days, he will give the customer a 2% discount on the payment.
"In this way, my cash turnover can be faster," Zhu Jialiang said.
Surviving the low tide, the education market becomes an opportunity to turn around
Three years ago, Zhu Jialiang finally figured it out, "I want to change from a company selling hardware brands to a solution company," he said calmly.
ViewBoard, a smart electronic interactive whiteboard, is produced in this kind of thinking transformation.
In 2016, Zhu Jialiang listened to a business meeting at the US headquarters. An American business reported to him that the distributor refused to push ViewSonic's products, so the business tried to push products on campus.
"I went to 10 schools to show and 8 schools wanted our products, and the hit rate was very high," the business man reported excitedly to Zhu Jialiang.
Zhu Jialiang decided to devote his limited resources to the education market.
The main market is ViewSonic in the United States. Zhu Jialiang wants to start his business in the US market. They will run on campus one by one, and at the same time go to the school to assist in the installation. ViewSonic personnel and teachers will be familiar with this set of electronic interactive whiteboards.
In addition, Zhu Jialiang found that the top two competitors in the field of traditional electronic whiteboards all use closed systems, and textbooks such as Google for Education, which are popular in the world, cannot be used. ViewSonic decided to adopt an open system that is compatible with these teaching materials, increasing the diversity and breadth of teaching materials used by teachers.
This is also a big challenge for the employees of ViewSonic. In the past, the products were sold through distributors, and the users were separated by a layer of yarn. Now it is different. You have to master the user situation yourself.
"It used to be cheaper than specifications and cheaper than specifications, but the challenge of this new business model is to solve customer problems. You need to understand the user context," said Lin Yukang, the associate of ViewSonic's global product marketing department. "But it's easier to say. There are so many user situations."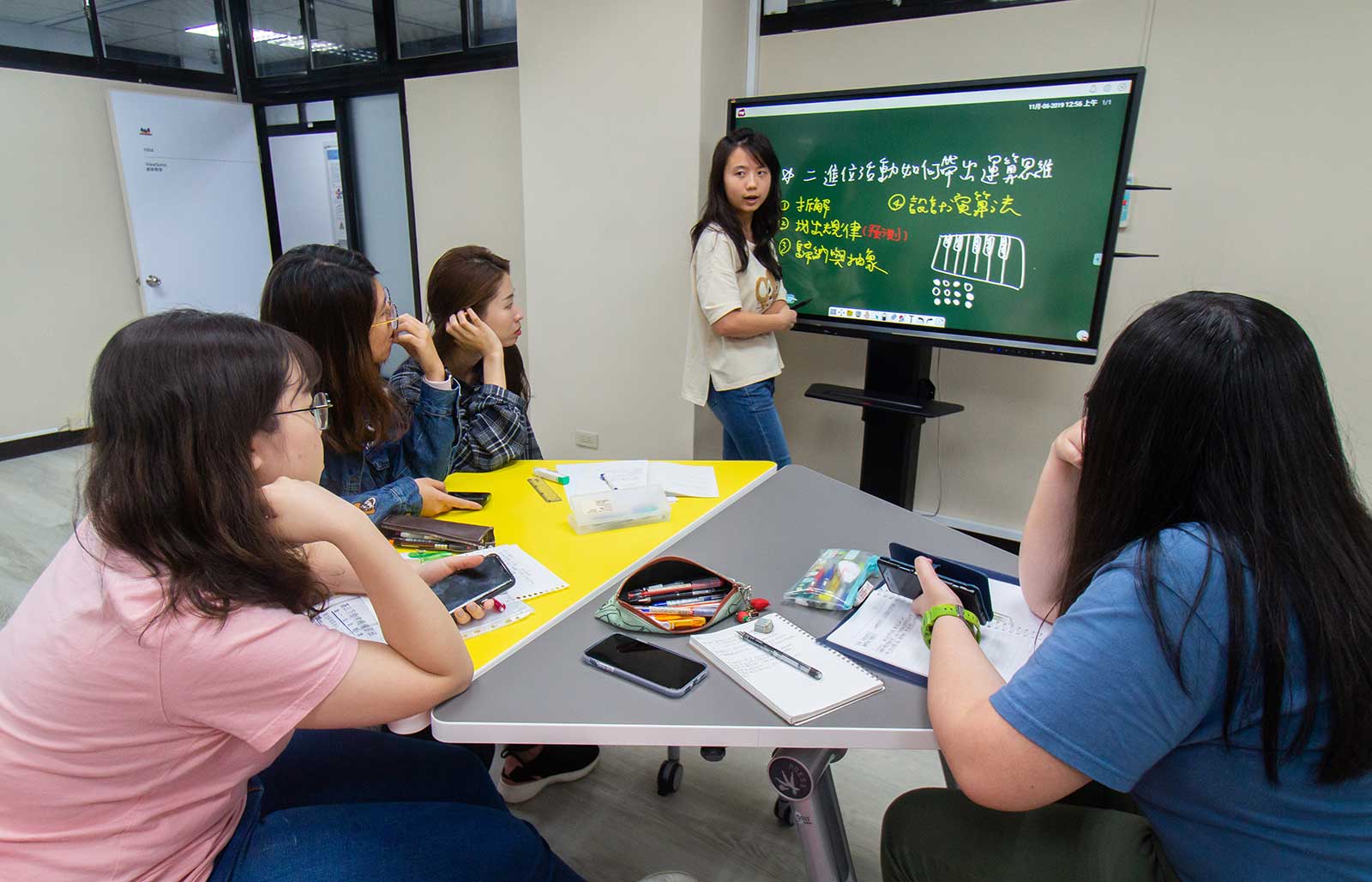 (Photo by Huang Mingtang)
For the educational technology that ViewSonic focuses on, the use context of the educational scene is the key.
On Thursday afternoon, in the "Innovative Classroom" between ViewSonic and the School of Education of Normal University, Lin Yuci, a teacher from the Institute of Information Education of Normal University, raised questions to nine graduate students. This group of future middle school teachers in Taiwan looked at the notes on the textbooks on the whiteboard with conscientiousness while thinking about the problem. After a while, Lin Yuci clicked on the whiteboard and immediately connected to the teaching video on the cloud.
"Student reports can be uploaded from his laptop to interact with everyone, or they can interact with remote villages across schools remotely. This is something that traditional electronic whiteboards and projectors can't do," Lin Yuci compares.
Zhu Jialiang confessed that the interactive whiteboard placed in the classroom should not be abandoned after one or two years because the teacher is not familiar with it, can't use it, and has a low usage rate.
He assigned personnel to the Normal University to assist in the construction of "teachers", "courses", and "environment". When discussing a certain topic on the interactive whiteboard, teachers can immediately grab a photo or a video online, and can also group and compare them immediately.
Lin Yukang said frankly that this kind of teaching scene, which has been popular in Europe and the United States for two to three years, has just begun in Taiwan. It can be said that teaching behavior and interactive mode have changed as a result, and it is no longer just a one-way teacher writing on the blackboard.
"Our staff have been running school," Lin Yukang said frankly. It's really not enough to put the hardware in the classroom, but to understand the teacher's teaching needs.
Focus on customer needs, sell hardware and software
Zhu Jialiang felt that it was not enough. He also established ViewSonic's only global R&D center in Taipei headquarters to develop software systems. In the past, the R&D department took the lead, and the product was sold to the business unit after the product was completed. Now, the business side provides first-hand customer needs and hands it to the R&D center for execution. The purpose is to be able to respond to the first-hand customer needs.
About 3 years since its launch, in 2018, the global sales of ViewSonic interactive whiteboards have grown by 120%, and the contribution of revenue has reached a record high in 8 years. The annual revenue is more than 20 billion Taiwan dollars, and the smart whiteboard has accounted for 25% of the revenue. In 2018, ViewSonic's smart interactive electronic whiteboard layout ranked third in the U.S. market, and in 2019 it jumped to third in the world (excluding the Chinese market).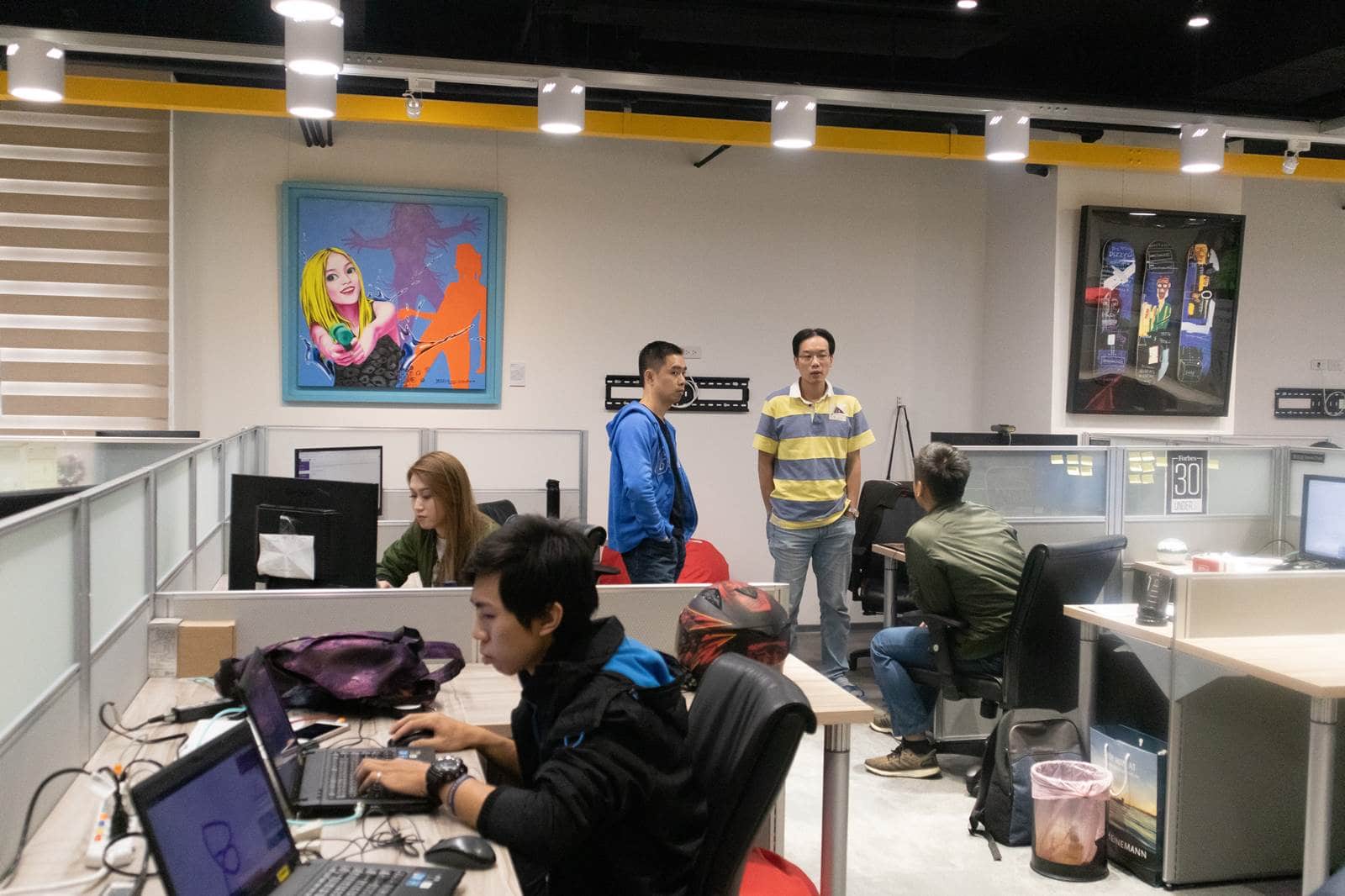 Zhu Jialiang, who loves art, has his own collections in his office, and his collection of paintings can also be seen everywhere in the staff offices. (Photo by Huang Mingtang)
ViewBoard launched the ViewBoard smart electronic interactive whiteboard. The suggested price of 55-inch is 99,000, and the most expensive 86-inch is 260,000. The unit price is much higher than that of ordinary computer monitors launched in the past. It is also 3 to 4 times that of a TV of the same size.
On the upper floor of Zhu Jialiang's office, a 60-person software team was formed in the past year. I developed myViewBoard software solutions, allowing teachers and users to create content on electronic whiteboard devices, access cloud drives and network resources for teaching, so that the software and hardware integration solutions can be mastered by their own teams. The number of registered members reached 550,000 in one year.
"The number of registrations is small, and the software has not yet brought in revenue, but we know that this is a necessary piece of providing solutions," Zhu Jialiang said frankly.
"It's very interesting and motivated now, just like back to starting a business," he said with feeling.
In the eyes of a senior analyst, the smart interactive whiteboard market has begun to fight. Big manufacturers such as Samsung and LG want to enter, and Chinese brands like Seewo, with a monthly volume of 300,000 units, and the model of replacing the market with bids is even more aggressive.
"The scale and capital of ViewSonic are far inferior to those of the aforementioned brands," the analyst reminded. It remains to be seen how long this product can maintain its advantage.
Two large beloved paintings are hung in Zhu Jialiang's office, and self-portraits of Andy Warhol and Yayoi Kusama are hung upstairs and downstairs in the office spaces of young employees. In the coffee space where the employees rest, San Yu's paintings are hung, all of which are Zhu Jialiang's own collection.
"I spend the most time in the office a day. Hanging in the office has a greater chance of admiring," he said with a smile.
From the peak to the bottom of the valley, Zhu Jialiang never gave up looking for a chance to survive for the kingdom he founded. Just like his favorite painting of "beautiful trap", the horse jumped through the ring of fire and tried to rush forward. (Editor in charge: Lai Pinjie)